A New Year means new adventures in books! So here are some books that I'm extremely excited about for 2019! Let me know which ones you're excited for or if you have any other recommendations!
BOOKS:
WE HUNT THE FLAME BY HAFSAH FAIZAL
This is my most anticipated release of the year! And LOOK AT THAT COVER!!!!
OUT MAY 14TH
Synopsis:
People lived because she killed.
People died because he lived.
Zafira is the Hunter, disguising herself as a man when she braves the cursed forest of the Arz to feed her people. Nasir is the Prince of Death, assassinating those foolish enough to defy his autocratic father, the sultan. If Zafira was exposed as a girl, all of her achievements would be rejected; if Nasir displayed his compassion, his father would punish him in the most brutal of ways.
Both are legends in the kingdom of Arawiya—but neither wants to be.
War is brewing, and the Arz sweeps closer with each passing day, engulfing the land in shadow. When Zafira embarks on a quest to uncover a lost artifact that can restore magic to her suffering world and stop the Arz, Nasir is sent by the sultan on a similar mission: retrieve the artifact and kill the Hunter. But an ancient evil stirs as their journey unfolds—and the prize they seek may pose a threat greater than either can imagine.
Set in a richly detailed world inspired by ancient Arabia, WE HUNT THE FLAME is a gripping story of discovery, conquering fear, and taking identity into your own hands.
PREORDER ON THE WEBSITE (AND SEE MORE EXCITING THINGS!)
---
99 PERCENT MINE BY SALLY THORNE
I really enjoyed the Hating Game and this just sounds so great!
OUT JANUARY 29TH

Synopsis:
Crush: a strong and often short-lived infatuation, particularly for someone beyond your reach…
Darcy Barrett has undertaken a global survey of men. She's travelled the world, and can categorically say that no one measures up to Tom Valeska, whose only flaw is that Darcy's twin brother Jamie saw him first and claimed him forever as his best friend. Despite Darcy's best efforts, Tom's off limits and loyal to her brother, 99%. That's the problem with finding her dream man at age eight and peaking in her photography career at age twenty—ever since, she's had to learn to settle for good enough.
When Darcy and Jamie inherit a tumble-down cottage from their grandmother, they're left with strict instructions to bring it back to its former glory and sell the property. Darcy plans to be in an aisle seat halfway across the ocean as soon as the renovations start, but before she can cut and run, she finds a familiar face on her porch: house-flipper extraordinaire Tom's arrived, he's bearing power tools, and he's single for the first time in almost a decade.
Suddenly Darcy's considering sticking around to make sure her twin doesn't ruin the cottage's inherent magic with his penchant for grey and chrome. She's definitely not staying because of her new business partner's tight t-shirts, or that perfect face that's inspiring her to pick up her camera again. Soon sparks are flying—and it's not the faulty wiring. It turns out one percent of Tom's heart might not be enough for Darcy anymore. This time around, she's switching things up. She's going to make Tom Valeska 99 percent hers.
---
SHADOW ME/DEFY ME BY TAHEREH MAFI
There isn't a cover for Defy Me yet but we all know it'll be stunning because the pattern for the series is SO. GORGEOUS. Also, Shadow Me is about Kenji aka the greatest character and I AM HERE FOR IT.
SHADOW ME COMES OUT MARCH 5TH
DEFY ME COMES OUT IN APRIL!
SYNPOSIS:
Fan favorite character Kenji Kishimoto narrates this gripping companion novella to Tahereh Mafi's New York Times bestselling Shatter Me series, set during the explosive events in Restore Me!
Juliette is still reeling from Warner's betrayal, and Kenji is trying to balance his friendship with her with his responsibilities as a leader of the resistance against the Reestablishment. Things get even more interesting when an unexpected person from Omega Point's past surfaces.
The ending of Restore Me left readers gasping, and this novella full of Kenji's signature sass and big heart is the perfect story to tide fans over until Defy Me, the shocking fifth book in the Shatter Me series, hits shelves in April 2019.
---
THE BRIDE TEST BY HELEN HOANG
One of my favorite books of 2018 was The Kiss Quotient so I'm SUPER excited for this spin off book!
OUT MAY 7TH
SYNOPSIS:
Khai Diep has no feelings. Well, he feels irritation when people move his things or contentment when ledgers balance down to the penny, but not big, important emotions—like grief. And love. He thinks he's defective. His family knows better—that his autism means he just processes emotions differently. When he steadfastly avoids relationships, his mother takes matters into her own hands and returns to Vietnam to find him the perfect bride.
As a mixed-race girl living in the slums of Ho Chi Minh City, Esme Tran has always felt out of place. When the opportunity arises to come to America and meet a potential husband, she can't turn it down, thinking this could be the break her family needs. Seducing Khai, however, doesn't go as planned. Esme's lessons in love seem to be working…but only on herself. She's hopelessly smitten with a man who's convinced he can never return her affection.
With Esme's time in the United States dwindling, Khai is forced to understand he's been wrong all along. And there's more than one way to love.
---
LOVE FROM A TO Z BY S.K. ALI
Y'all I'm OBSESSED with the cover! Also, I really enjoyed Saints and Misfits and can't wait for more amazing representation! And IT JUST LOOKS SO CUTE HELP!
OUT MAY 7TH
SYNOPSIS:
A marvel: something you find amazing. Even ordinary-amazing. Like potatoes—because they make French fries happen. Like the perfect fries Adam and his mom used to make together.
An oddity: whatever gives you pause. Like the fact that there are hateful people in the world. Like Zayneb's teacher, who won't stop reminding the class how "bad" Muslims are.
But Zayneb, the only Muslim in class, isn't bad. She's angry.
When she gets suspended for confronting her teacher, and he begins investigating her activist friends, Zayneb heads to her aunt's house in Doha, Qatar, for an early start to spring break.
Fueled by the guilt of getting her friends in trouble, she resolves to try out a newer, "nicer" version of herself in a place where no one knows her.
Then her path crosses with Adam's.
Since he got diagnosed with multiple sclerosis in November, Adam's stopped going to classes, intent, instead, on perfecting the making of things. Intent on keeping the memory of his mom alive for his little sister.
Adam's also intent on keeping his diagnosis a secret from his grieving father.
Alone, Adam and Zayneb are playing roles for others, keeping their real thoughts locked away in their journals.
Until a marvel and an oddity occurs…
Marvel: Adam and Zayneb meeting.
Oddity: Adam and Zayneb meeting.
---
AGAIN, BUT BETTER BY CHRISTINE RICCIO
Honestly, Christine is the first ever booktuber I ever followed! I don't follow many but I've kept following her for a few years now and I'm so excited for her since her debut novel comes out this year!
OUT MAY 7TH
SYNOPSIS:
Shane has been doing college all wrong. Pre-med, stellar grades, and happy parents…sounds ideal — but Shane's made zero friends, goes home every weekend, and romance…what's that?
Her life has been dorm, dining hall, class, repeat. Time's a ticking, and she needs a change — there's nothing like moving to a new country to really mix things up. Shane signs up for a semester abroad in London. She's going to right all her college mistakes: make friends, pursue boys, and find adventure!
Easier said than done. She is soon faced with the complicated realities of living outside her bubble, and when self-doubt sneaks in, her new life starts to fall apart.
Shane comes to find that, with the right amount of courage and determination one can conquer anything. Throw in some fate and a touch of magic – the possibilities are endless.
---
THERE'S SOMETHING ABOUT SWEETIE BY SANDHYA MENON
Sandhya Menon is one of my favorite new authors! Dimple was absolutely adorable and so was Twinkle! And I'm just so so excited to have more Bollywood inspired cuteness and also cameos YESSS!
OUT MAY 14TH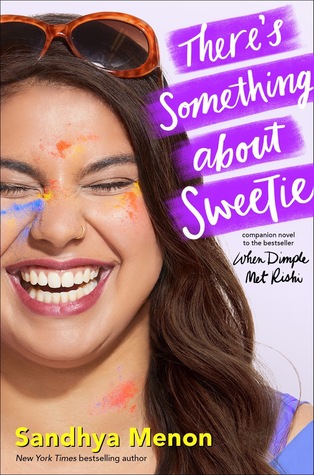 SYNOPSIS:
Ashish Patel didn't know love could be so…sucky. After he's dumped by his ex-girlfriend, his mojo goes AWOL. Even worse, his parents are annoyingly, smugly confident they could find him a better match. So, in a moment of weakness, Ash challenges them to set him up.
The Patels insist that Ashish date an Indian-American girl—under contract. Per subclause 1(a), he'll be taking his date on "fun" excursions like visiting the Hindu temple and his eccentric Gita Auntie. Kill him now. How is this ever going to work?
Sweetie Nair is many things: a formidable track athlete who can outrun most people in California, a loyal friend, a shower-singing champion. Oh, and she's also fat. To Sweetie's traditional parents, this last detail is the kiss of death.
Sweetie loves her parents, but she's so tired of being told she's lacking because she's fat. She decides it's time to kick off the Sassy Sweetie Project, where she'll show the world (and herself) what she's really made of.
Ashish and Sweetie both have something to prove. But with each date they realize there's an unexpected magic growing between them. Can they find their true selves without losing each other?
---
I'm also really excited for Part 4 of the Legend series by Marie Lu, The Winterbrone Home for Vengeance and Virtue by Ally Carter, and Ember 4 by Sabaa Tahir (though we don't have much information about them yet!)