SOOOO I did one post about this already but I FORGOT A TON and wanted to share them (because we should all have tons of books on our never ending TBRs, right?)!
FIELD NOTES ON LOVE BY JENNIFER E. SMITH
I loved her other books so I'm really excited for more cuteness!
OUT MARCH 5TH
Synopsis:
Having just been dumped by his girlfriend, British-born Hugo is still determined to take his last-hurrah-before-college train trip across the United States. One snag: the companion ticket is already booked under the name of his ex, Margaret Campbell. Nontransferable, no exceptions.
Enter the new Margaret C. (Mae for short), an aspiring filmmaker with big dreams. After finding Hugo's spare ticket offer online, she's convinced it's the perfect opportunity to expand her horizons.
When the two meet, the attraction is undeniable, and both find more than they bargained for. As Mae pushes Hugo to explore his dreams for his future, he'll encourage her to channel a new, vulnerable side of her art. But when life off the train threatens the bubble they've created for themselves, will they manage to keep their love on track?
---
THE REST OF THE STORY BY SARAH DESSEN
I STAN ONE SARAH DESSEN AND LIVE FOR ALL OF HER BOOKS AND I CAN'T BELIEVE I DIDN'T SEE THE NEWS WHEN SHE ANNOUNCED HER NEW BOOK???
OUT JUNE 4TH

Synopsis:
From #1 New York Times bestselling author Sarah Dessen comes a big-hearted, sweeping novel about a girl who reconnects with a part of her family she hasn't seen since she was a little girl—and falls in love, all over the course of a magical summer.
Emma Saylor doesn't remember a lot about her mother, who died when she was ten. But she does remember the stories her mom told her about the big lake that went on forever, with cold, clear water and mossy trees at the edges.
Now it's just Emma and her dad, and life is good, if a little predictable…until Emma is unexpectedly sent to spend the summer with her mother's family—her grandmother and cousins she hasn't seen since she was a little girl.
When Emma arrives at North Lake, she realizes there are actually two very different communities there. Her mother grew up in working class North Lake, while her dad spent summers in the wealthier Lake North resort. The more time Emma spends there, the more it starts to feel like she is divided into two people as well. To her father, she is Emma. But to her new family, she is Saylor, the name her mother always called her.
Then there's Roo, the boy who was her very best friend when she was little. Roo holds the key to her family's history, and slowly, he helps her put the pieces together about her past. It's hard not to get caught up in the magic of North Lake—and Saylor finds herself falling under Roo's spell as well.
For Saylor, it's like a whole new world is opening up to her. But when it's time to go back home, which side of her will win out?
---
THE CANDLE AND THE FLAME BY NAFIZA AZAD
Okay the cover is so gorgeous and also, MUSLIM AUTHOR! DUH! AND ALSO ALL THE QUOTES SHE SHARES ON HER TWITTER AND FUN STUFF IS JUST AMAZING.
OUT ON MAY 14TH
SYNPOSIS:
Fatima lives in the city of Noor, a thriving stop along the Silk Road. There the music of myriad languages fills the air, and people of all faiths weave their lives together. However, the city bears scars of its recent past, when the chaotic tribe of Shayateen djinn slaughtered its entire population — except for Fatima and two other humans. Now ruled by a new maharajah, Noor is protected from the Shayateen by the Ifrit, djinn of order and reason, and by their commander, Zulfikar.
But when one of the most potent of the Ifrit dies, Fatima is changed in ways she cannot fathom, ways that scare even those who love her. Oud in hand, Fatima is drawn into the intrigues of the maharajah and his sister, the affairs of Zulfikar and the djinn, and the dangers of a magical battlefield.
Nafiza Azad weaves an immersive tale of magic and the importance of names; fiercely independent women; and, perhaps most importantly, the work for harmony within a city of a thousand cultures and cadences.
---
DESCENDANT OF THE CRANE BY JOAN HE
I'm so hyped mostly because of Justine over at BookishWisps
OUT APRIL 2ND
SYNOPSIS:
Tyrants cut out hearts. Rulers sacrifice their own.
Princess Hesina of Yan has always been eager to shirk the responsibilities of the crown, dreaming of an unremarkable life. But when her beloved father is found dead, she's thrust into power, suddenly the queen of a surprisingly unstable kingdom. What's more, Hesina believes that her father was murdered—and that the killer is someone close to her.
Hesina's court is packed full of dissemblers and deceivers eager to use the king's death for political gain, each as plausibly guilty as the next. Her advisers would like her to blame the neighboring kingdom of Kendi'a, whose ruler has been mustering for war. Determined to find her father's actual killer, Hesina does something desperate: she enlists the aid of a soothsayer—a treasonous act, punishable by
death, since magic was outlawed centuries ago.
Using the information provided by the sooth, and uncertain if she can trust her family, Hesina turns to Akira—a brilliant investigator who's also a convicted criminal with secrets of his own. With the future of Yan at stake, can Hesina find justice for her father? Or will the cost be too high?
---
IF I'M BEING HONEST BY Emily Wibberley, Austin Siegemund-Broka
I really enjoyed Always Never Yours and am excited to see more fun story telling!
OUT APRIL 23RD
SYNOPSIS:
High school senior Cameron Bright's reputation can be summed up in one word: bitch. It's no surprise she's queen bee at her private L.A. high school—she's beautiful, talented, and notorious for her cutting and brutal honesty. So when she puts her foot in her mouth in front of her crush, Andrew, she fears she may have lost him for good.
In an attempt to win him over, Cameron resolves to "tame" herself, much like Katherine in Shakespeare's The Taming of the Shrew. First, she'll have to make amends with those she's wronged, which leads her to Brendan, the guy she labelled with an unfortunate nickname back in the sixth grade. At first, Brendan isn't all that receptive to Cameron's ploy. But slowly, he warms up to her when they connect over the computer game he's developing. Now if only Andrew would notice…
But the closer Cameron gets to Brendan, the more she sees he appreciates her personality—honesty and all—and wonders if she's compromising who she is for the guy she doesn't even want.
---
THE BEAUTIFUL BY RENÈE AHDIEH
I LIVE FOR AHDIEH'S BOOKS! WRATH AND THE DAWN IS ONE OF MY FAVORITE DUOLOGIES EVER!
OUT ON OCTOBER 8TH
SYNOPSIS:
New York Times bestselling author Renée Ahdieh returns with a sumptuous, sultry and romantic new series set in 19th century New Orleans where vampires hide in plain sight.
In 1872, New Orleans is a city ruled by the dead. But to seventeen-year-old Celine Rousseau, New Orleans provides her a refuge after she's forced to flee her life as a dressmaker in Paris. Taken in by the sisters of the Ursuline convent along with six other girls, Celine quickly becomes enamored with the vibrant city from the music to the food to the soirées and—especially—to the danger. She soon becomes embroiled in the city's glitzy underworld, known as Le Cour des Lions, after catching the eye of the group's leader, the enigmatic Sébastien Saint Germain. When the body of one of the girls from the convent is found in the lair of Le Cour des Lions, Celine battles her attraction to him and suspicions about Sébastien's guilt along with the shame of her own horrible secret.
When more bodies are discovered, each crime more gruesome than the last, Celine and New Orleans become gripped by the terror of a serial killer on the loose—one Celine is sure has set her in his sights . . . and who may even be the young man who has stolen her heart. As the murders continue to go unsolved, Celine takes matters into her own hands and soon uncovers something even more shocking: an age-old feud from the darkest creatures of the underworld reveals a truth about Celine she always suspected simmered just beneath the surface.
At once a sultry romance and a thrilling murder mystery, master storyteller Renée Ahdieh embarks on her most potent fantasy series yet: The Beautiful.
---
ONCE AND FUTURE BY AMY ROSE CAPETTA
I got this recommendation from Kayla (CaughtBetweenthePages) and she has really great taste in books so I'll definitely be checking this out!
OUT MARCH 26TH
SYNOPSIS:
I've been chased my whole life. As a fugitive refugee in the territory controlled by the tyrannical Mercer corporation, I've always had to hide who I am. Until I found Excalibur.

Now I'm done hiding.

My name is Ari Helix. I have a magic sword, a cranky wizard, and a revolution to start.
When Ari crash-lands on Old Earth and pulls a magic sword from its ancient resting place, she is revealed to be the newest reincarnation of King Arthur. Then she meets Merlin, who has aged backward over the centuries into a teenager, and together they must break the curse that keeps Arthur coming back. Their quest? Defeat the cruel, oppressive government and bring peace and equality to all humankind.
No pressure.
---
NINTH HOUSE BY LEIGH BARDUGO
I loved the SoC duology (and still need to read the Grisha trilogy!) but I love Bardugo's world building and writing style! So I'm definitely excited about this!
OUT OCTOBER 1ST
SYNOPSIS:
The new series centers on Alex Stern, a 20-year-old California high school dropout with a criminal past who is mysteriously offered a second chance as a Yale University freshman. Ninth House, the first book, follows Stern's freshman year, where she is charged with monitoring Yale's secret societies, who engage in sinister occult activities.
---
THE TYRANT'S TOMB (TRIALS OF APOLLO #4) BY RICK RIORDAN
I am trash for anything in the Percy Jackson universe. Like… I don't even care, I'm going to read it… especially because the last one was the best one of this series so far! AND OH MY GOSH LOOK AT REYNA YESSSSSSSSS!!!!
OUT SEPTEMBER 24TH
SYNOPSIS:
It's not easy being Apollo, especially when you've been turned into a human and banished from Olympus. On his path to restoring five ancient oracles and reclaiming his godly powers, Apollo (aka Lester Papadopoulos) has faced both triumphs and tragedies. Now his journey takes him to Camp Jupiter in the San Francisco Bay Area, where the Roman demigods are preparing for a desperate last stand against the evil Triumvirate of Roman emperors. Hazel, Reyna, Frank, Tyson, Ella, and many other old friends will need Apollo's aid to survive the onslaught. Unfortunately, the answer to their salvation lies in the forgotten tomb of a Roman ruler . . . someone even worse than the emperors Apollo has already faced.
---
SHADES OF MAGIC VOLUME 1: THE STEEL PRINCE BY V.E. SCHWAB
V.E. Schwab is my favorite author of my favorite book (Vicious) and ADSOM was AMAZING. I want to re-read the trilogy and then read this prequel because YES.
OUT MARCH 6TH
SYNOPSIS:
Collects Shades of Magic: The Steel Prince #1-4.
Written by #1 New York Times bestselling author V.E. Schwab and torn from the universe of the Shades of Magic sequence, this all-original comic book prequel to A Darker Shade of Magic is perfect for fans of bloody, swashbuckling adventure and gritty fantasy!
Delve into the thrilling, epic tale of the young and arrogant prince Maxim Maresh, long before he became the king of Red London and adoptive father to Kell, the lead of A Darker Shade of Magic!
The youthful Maresh is sent to a violent and unmanageable port city on the Blood Coast of Verose, on strict orders from his father, King Nokil Maresh, to cut his military teeth in this lawless landscape.
There, he encounters an unruly band of soldiers, a lawless landscape, and the intoxicatingly deadly presence of the newly returned pirate queen, Arisa…
---
THE LIGHT AT THE BOTTOM OF THE WORLD BY LONDON SHAH
S.K. Ali has this awesome thread on TWITTER that shines a spotlight on Muslim Authors and when I saw this, I immediately had to add it to my TBR! It sounds so interesting!
OUT OCTOBER 29TH
SYNOPSIS:
Hope had abandoned them to the wrath of all the waters.
At the end of the twenty-first century, the world has changed dramatically, but life continues one thousand feet below the ocean's surface. In Great Britain, sea creatures swim among the ruins of Big Ben and the Tower of London, and citizens waver between fear and hope; fear of what lurks in the abyss, and hope that humanity will soon discover a way to reclaim the planet.
Meanwhile, sixteen-year-old Leyla McQueen has her own problems to deal with. Her father's been arrested, accused of taking advantage of victims of the Seasickness—a debilitating malaise that consumes people, often claiming their lives. But Leyla knows he's innocent, and all she's interested in is getting him back so that their lives can return to normal.
When she's picked to race in the action-packed London Submersible Marathon, Leyla gets the chance to secure his freedom; the Prime Minister promises the champion whatever their heart desires. The race takes an unexpected turn, though, and presents her with an opportunity she never wanted: Leyla must venture outside of London for the first time in her life, to find and rescue her father herself.
Now, she'll have to brave the unfathomable waters and defy a corrupt government determined to keep its secrets, all the while dealing with a secretive, hotheaded companion she never asked for in the first place. As she discovers a world drowning in lies, how much longer can Leyla hold out hope for the truth? If she fails, or falls prey to her own fears, she risks capture—or worse. And her father might be lost forever.
---
ALL THE THINGS WE NEVER SAID BY YASMIN RAHMAN
ANOTHER MUSLIM AUTHOR! Y'ALL HAVE NO IDEA HOW ELATED THIS MAKES ME!!!
OUT JULY 11TH
SYNOPSIS:
16-year-old Mehreen Miah's anxiety and depression, or 'Chaos', as she calls it, has taken over her life, to the point where she can't bear it any more. So she joins MementoMori, a website that matches people with partners and allocates them a date and method of death, 'the pact'. Mehreen is paired with Cara Saunders and Olivia Castleton, two strangers dealing with their own serious issues.
As they secretly meet over the coming days, Mehreen develops a strong bond with Cara and Olivia, the only people who seem to understand what she's going through. But ironically, the thing that brought them together to commit suicide has also created a mutually supportive friendship that makes them realise that, with the right help, life is worth living. It's not long before all three want out of the pact. But in a terrifying twist of fate, the website won't let them stop, and an increasingly sinister game begins, with MementoMori playing the girls off against each other.
A pact is a pact, after all.
In this powerful debut written in three points of view, Yasmin Rahman has created a moving, poignant novel celebrating life. ALL THE THINGS WE NEVER SAID is about friendship, strength and survival.
---
SEA WITCH RISING BY SARAH HENNING
I really enjoyed Sea Witch and retellings are MY JAM!
OUT AUGUST 6TH
SYNOPSIS:
There's no synopsis on GR yet BUT on Sarah Henning's twitter, she said: "This sequel picks up *after* the epilogue in SEA WITCH and follows the perspectives of both the sea witch and the little mermaid's left-behind twin, exploring the complications of sisterhood, the uncompromising nature of magic, and the cost of redemption."
---
THE BOY WHO STEALS HOUSES BY C.G. DREWS
A THOUSAND PERFECT NOTES RUINED ME I TELL YOU. RUINED ME. And I am not ready to endure the pain but I WILL. BECAUSE C.G. DREWS'S WRITING IS BEAUTIFUL.
OUT APRIL 4TH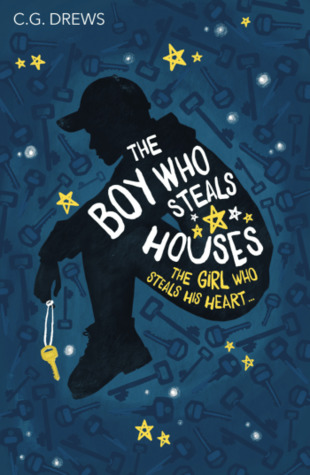 SYNOPSIS:
Can two broken boys find their perfect home?
Sam is only fifteen but he and his autistic older brother, Avery, have been abandoned by every relative he's ever known. Now Sam's trying to build a new life for them. He survives by breaking into empty houses when their owners are away, until one day he's caught out when a family returns home. To his amazement this large, chaotic family takes him under their wing – each teenager assuming Sam is a friend of another sibling. Sam finds himself inextricably caught up in their life, and falling for the beautiful Moxie.
But Sam has a secret, and his past is about to catch up with him.
---
Anyway, as you can see, I need to stop adding more books to my TBR because I have too many to read this year now! BUT, if you're excited for any books that come out later in the year let me know! I'd love to check them out (because I have that kind of time most definitely hahaha)